It doesn't feel like it's been a year since I did the last end-of-year statistics post…
Nevertheless, here we are at the beginning of a new year and a new decade. It's completely true what they say – time really does speed up once you get older. Anyway, like 2018, for me, 2019 has been quite the weird year. I've experienced quite a lot but I've also discovered a lot as well, including just how much this blog means to me.
This isn't going to follow the usual layout. I'll post statistics and reflections about the blog, but this time there won't be a fancy little infographic. If I'm honest, I forgot it was the end of the year already! This year is different again though, as I'm also going to talk about AGAHA's YouTube channel as well. There's more to get through than what we're used to, so without further ado, let's start!
WordPress Followers
At the time of compiling all of these statistics, A Girl & Her Anime is just short of 300 followers, sitting on 285 to be exact. This is quite the remarkable jump from last year with the follower count almost doubling in size! Thank you to everyone who has begun to or has continued to support the blog in 2019. You're all wonderful and I don't know what I'd do without you!
Completed Anime
According to my stats on MyAnimeList, I've added 49 shows to my Completed list this year. That's a little bit less than last year, but considering I've been watching some big shows recently, that's okay with me! Having searched these up individually on the blog (and YouTube channel), I've at least mentioned 44% of these shows in reviews and other posts. This could be improved on, but at least my plans for 2020 allow me to revisit these…
Out of the 49 shows, I would have to say that the following were my favourites. Of course, not all of these aired in 2019, but they're all anime that I watched in 2019. In no particular order, my favourites for 2019 were:
Kiznaiver
JoJo's Bizarre Adventure
Priorities for 2020
Prioritising things has always been my downfall. Although I have shows on my 2019 priorities list that I have watched in the past year, there are shows on my 2018 priority list that I haven't even glanced at. It's a terrible habit.
2020 is hopefully going to be the year where I sort out my backlog for good. As I mentioned in my Winter 2020 post, I will be more selective with seasonal shows again this year. Why? If you continue reading to the next section, you'll soon know just how out of control my backlog is getting.
That being said, there are some shows that I wish to prioritise in particular this year. I do wish to continue watching JoJo's Bizarre Adventure. Doing No Way November has certainly piqued my interest in the world of JoJo somewhat and I do want to continue watching the franchise from the second half of Stardust Crusaders.
A plan I had for 2019 was to catch up with Boku no Hero Academia in time for the fourth season. However, as it coincided with No Way November, that never happened. Because of that, I want to make a conscious effort to watch more of HeroAca as I did really enjoy the first season! On a similar level, I also want to catch up with Attack on Titan. It's been a while since I've seen the anime at all (five years almost) but I've heard very good things about the newer seasons, so it's probably time I take the plunge!
2020 seems to be quite the shounen year for me, but considering how much I've neglected the genre in the past, I think it's safe to say that that's more than okay.
MyAnimeList Statistics
I really never do learn my lesson when it comes to MAL. I complete anime, I add more to my PTW. I add items to my On Hold, to never return to them. Despite what some other bloggers have been saying in the past few days, this year is certainly the year I try to tackle my list and, at the same time, my backlog. There are items on my On Hold and PTW that I haven't touched since I made my MAL account back in 2013. This is going to be quite the challenge but it'll certainly be worthwhile knowing if my Dropped list could be used more effectively. At least I won't need to challenge myself as I have done in previous years.
YouTube
This isn't really a statistics-related paragraph or so, but rather a reflection.
Entering the world of YouTube is something that I've wanted to do for years. Sure, I've done it in the past, but bringing AGAHA onto YouTube is something I had never attempted before, simply because I was too scared to do it previously. Admittedly, in the four months I've been on there I haven't been that active.
It's something I'm working on still. I'm still figuring out what content should be there, what style of thumbnail I like, how I want to be editing my videos… A lot of the YouTube things have been affected due to my personal life (e.g. job hunting), but it is something I do enjoy and I am certainly going to make sure there's more content up there in 2020.
Popular Posts
I always find it interesting to see what posts are popular at the end of the year, so, just like last year, I thought I would share with you guys the ten most popular posts on A Girl & Her Anime in 2019! Interestingly, four of these were also in the top 10 for last year. I really can't think of why…
2020: Onwards and Upwards
2020 is certainly going to be another challenging year for me in my personal life, but I am hoping it's going to be a fantastic year for the blog. 2019 has seen the community turn a little bit quieter, but I'm hoping that we can bring a little bit of life back into the anime blogging community.
I'll be outlining my plans for A Girl & Her Anime in tomorrow's post, but, as always, I have a lot of plans and ideas to try out. Tomorrow also marks the start of me finally getting round to tidying the blog up as well. I gave myself a head start back in November by making the sidebar graphics, but the rest of the blog hasn't been touched on. Again, more info in tomorrow's post!
Thank You
I've been given so many opportunities within the blogging community in 2019. Whether it's collaborating, appearing on podcasts or working with brands, it's all happened this year and I can't believe how exciting this year has been. I couldn't have done it without everyone's support, so, if you're reading this, thank you.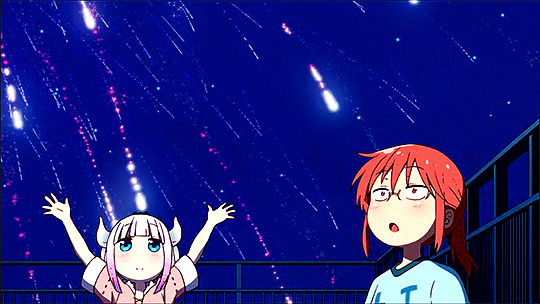 Thank you for reading my posts, sharing them, commenting and liking them. 2019 wouldn't have been so amazing it was if it wasn't for you.
Happy New Year, everyone!