Leeds is a city near where I'm from, in the north of England.
A lot of you probably haven't heard of it before. In actual fact, it's the largest legal and financial centre outside of London and the birthplace of Spice Girls' member Mel B, former professional boxer Nicola Adams and renowned chef, Marco Pierre White. Let's forget about the random bits of trivia though, because Leeds is a brilliant place to go if you want to expand your anime and manga collections.
I travel fairly often to Leeds, for it's relatively nearby to my hometown. I hop on the train and I'm there within an hour. Easy! I've been going to Leeds for the majority of my anime and manga shopping for the past few years now and I've managed to develop a certain route around the city to hit all of the best spots, which I'm going to share with you today!
The Corn Exchange
Now, I'll admit – this isn't the first place people think of when they think of shopping in Leeds. That being said, it's full of little finds that I just need to share! The Corn Exchange is known for its independent shops and eateries, meaning you can find some right little gems, including two that might interest the anime and manga fan! First of all, there's Giant Kitten – a shop which specialises in kitsch, kawaii and quirky gifts. Think Hello Kitty, think Pocky, think Hatsune Miku and Rilakkuma because they can all be found at Giant Kitten!
Going around the Corn Exchange, you'll also be able to find On the Wall – a retailer specialising in contemporary art. During my last visit, I was able to spy prints of Ghibli classics such as My Neighbor Totoro and Princess Mononoke, but a quick look at their website suggests that they also sell posters of anime series such as Tokyo Ghoul and One Punch Man as well. It's certainly a place to check out if you're looking to decorate your room with a hint of anime!
Travelling Man
From the Corn Exchange, I usually head back down Boar Lane and turn right after passing Pieminster. Down here, you could stop off for a bite to eat at Little Tokyo – a restauarant serving Japanese food with a Yorkshire twist – but I usually continue down towards the end of the street where Travelling Man is!
Travelling Man has stores all over northern England, but the one in Leeds is certainly my most frequented. Dubbed as the UK's friendliest comic book store, it also sells board games, role-playing games and manga! They usually have a 3 for 2 offer on Viz Media publications, so it's a very useful place to go if you're looking for those in particular! The staff are very friendly and I did end up having a conversation with them about JoJo's Bizarre Adventure during one of my many visits.
Forbidden Planet
At the bottom of the Headrow is where my favourite shop is – Forbidden Planet. Started in 1978, they specialise in comics, graphic novels, manga, DVDs, video games and various collectibles as well as fantasy, sci-fi and horror novels. The one in Leeds is on two floors: the ground floor featuring collectibles such as Funko Pops, cute characters (e.g. Molang), and toys from well-known franchises such as Harry Potter and Doctor Who.
On the lower level, the Leeds branch has a glorious amount of comics, graphic novels and manga. Admittedly, I'm not too sure about the comics and graphic novels, but I know for certain that manga at Forbidden Planet stores are seemingly all on a 3 for 2 offer. Unlike Travelling Man, it doesn't matter what publisher they come from. Every manga is on 3 for 2, which is one of the reasons why Forbidden Planet is one of my favourite stores, not to mention the variety of manga available. Again, the staff are extremely friendly and always strike a conversation with you.
OK Comics
Head back up The Headrow and make your way to Thornton's Arcade on Briggate. In here, you'll find a shop called OK Comics – a recent discovery of mine. Don't get me wrong, I knew the shop existed, but I only discovered they sold manga very recently. As the name suggests, they are predominantly a comic shop, however you will be able to find some manga scattered about on the ground floor and some on the first floor as well. Whilst you're on the first floor, you can also pick up a book and rest your feet for a bit, as there's also a seating area!
I'm not too familiar with OK Comics just yet, but the staff were friendly and did ask a few times if I needed any assistance. If you do pay a visit, do bear in mind that the shop is very small and certainly wouldn't suit large groups visiting at the same time.
Next Level
Next Level is another recent discovery of mine and one that I stumbled upon by chance. Located in Queen's Arcade on Briggate, Next Level markets itself to be "your one stop shop for all your movie/comic merchandise".
I will say, I was quite impressed on my first visit. Never have I seen so many figures in a shop on the high street before. Next Level was certainly reaching convention stall amounts of figures. Unfortunately, for me, there usually isn't too much choice. The majority of the stock is movie and comic characters, but if you're looking for a Sailor Moon figure, for example, this is certainly the place. Also, I do find some figures to be a little on the expensive side, even when compared to convention prices, but it's certainly worth a trip to go and have a look!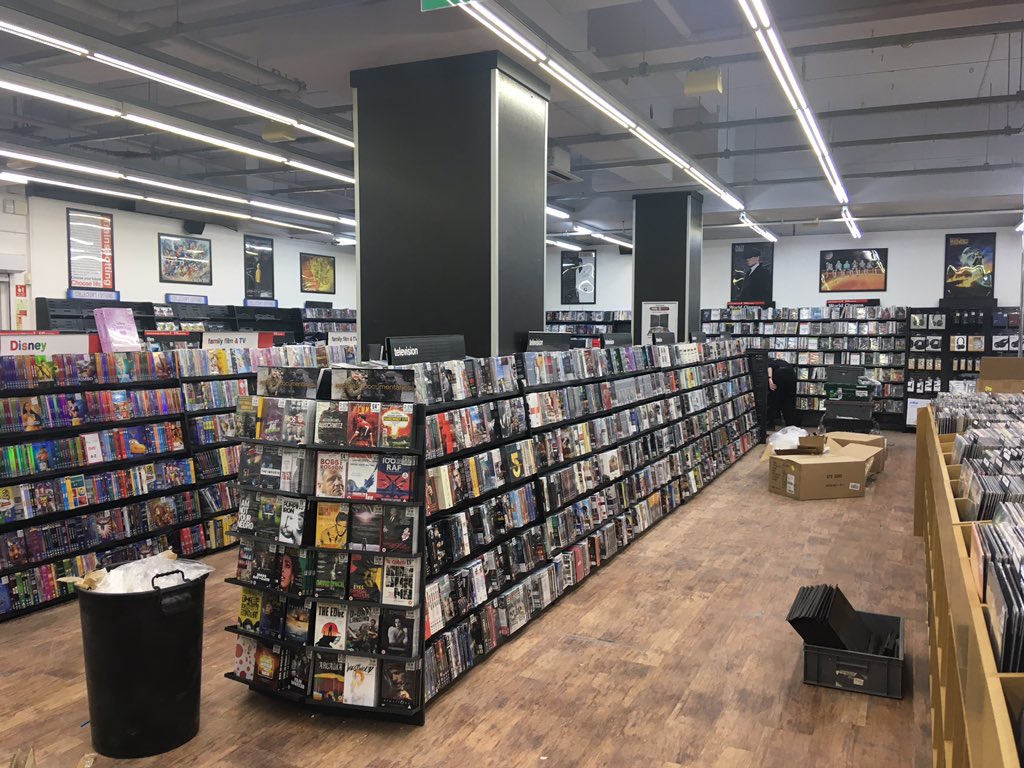 HMV
HMV probably doesn't need an introduction. The company is, after all, nearly 100 years old and has over 120 stores all over the UK. Still, no matter where I am in the UK, if there's an HMV nearby, I'll certainly go and check it out. The stock there is usually standard – most shops arguably sell the same titles – but I have recently bought titles such as Cowboy Bebop and Fruits Basket from there, so you can definitely find some popular titles there even outside of the Studio Ghibli classics.
HMV have also, in recent times, introduced K-Pop to their stores, so I'll also scuttle about the store looking for this (usually very small) section. The majority of albums in HMV's K-Pop section are credited to BTS, but there are often other artists featured, such as Blackpink, NCT, Super Junior and Monsta X.
CeX
CeX is arguably my favourite place to go to look for anime. I have a feeling most people wouldn't even consider looking in this second-hand retailer, but I have found some absolute gems in CeX, especially for older anime and random OVA series, but there are definitely times where newer releases have appeared in a branch, taking me by surprise, including the recent Fruits Basket Part One release by Manga UK for £12.
CeX is also a great place to go for video games. Games here cover most platforms you can think of (if not all of them!) and although it sometimes requires you to know just how much a game is worth, you can find some more little treasures hidden amongst the shelves.
---
Waterstones
Ever since my time at university, Waterstones has been a shop which I've always had to walk in and check. It doesn't matter which city or town I'm in, I will always visit Waterstones. This probably stems from when I read young adult fiction a lot, but it's a habit that has helped me develop my manga collection somewhat.
Waterstones has a very good selection of manga in most of their stores. Shopping at Waterstones, I've been able to buy manga such as A Girl on the Shore by Inio Asano, the Wadanohara and the Great Blue Sea manga by Kaitei Shujin and finish my collection of the your name. (sic) manga. It's a very good place to go for more popular manga series, but it's also very useful considering there are branches of Waterstones all over the country!
WHSmith
Unlike Waterstones, WHSmith stores don't tend to have a good selection of manga. Typically, there's the likes of Tokyo Ghoul and My Hero Academia, but usually only the first volumes. Manga isn't the reason why I go to WHSmith, though. The reason I go here is to buy a copy of Neo – a monthly magazine about anime, manga and other aspects of entertainment.
I won't go into too much detail about Neo here, as I'm sure I could talk more about it another time, but it's always an interesting read and usually contain some nice posters as well as useful information regarding release dates for manga and anime.
---
That's typically it for my shopping days in Leeds, if I'm going for an anime-influenced shopping spree. I try not to go too often as I always spend way too much money on them, but it's certainly one of my favourite things to do, especially if I'm accompanied by a friend.
I'm constantly discovering new places to visit, so I'll hopefully have another post like this soon! It's something I've been wanting to write about for a while now, so hopefully it helps someone out there!
If you've been to any of these places, do let me know what you think of them! And, if you're from Leeds or visit there often, let me know what other places I should check out in the comment section below!